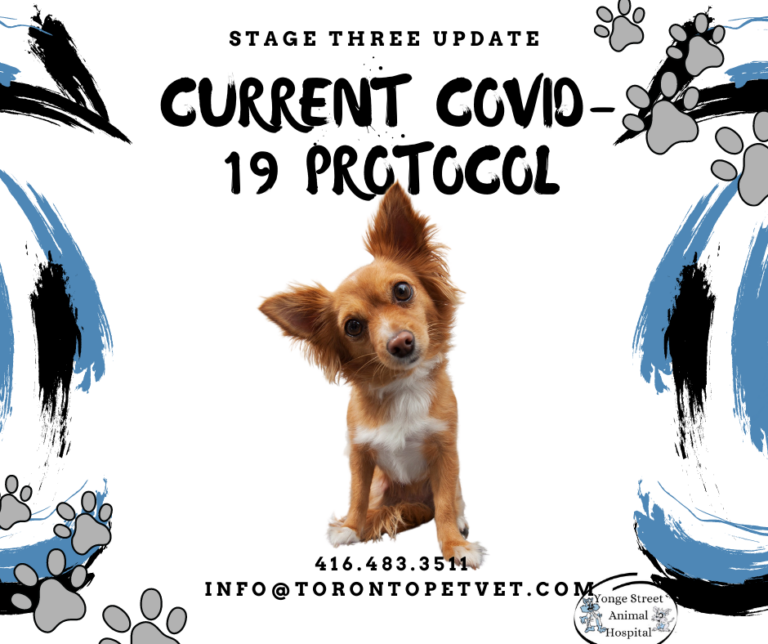 Covid Protocols for Stage 3
The team at Yonge Street Animal Hospital takes daily precautions to ensure the health and safety of our clients and patients. We would like to outline how we plan to continue serving our customers in the days and weeks ahead in response to the COVID-19 outbreaks.
Our priority is as always the safety of our patients, clients, and staff. We thoroughly clean every exam room between all appointments and practice hand hygiene between handling different patients in hospital. We take care to clean the common hallways and reception area throughout the day to provide the safest and cleanest environment possible. We will continue to do so and ask that you be patient with our team if this makes appointments take longer.
We are continuing our services curbside at the moment for food and medication pick ups. Appointments are available for both curbside services with the option to wait in the reception waiting area during your pet's appointment. Our exam rooms are unfortunately not large enough for physical distancing so you will not be able to enter the exam rooms with your pet. We take every precaution with your loved ones and make sure they are comfortable throughout their appointment.
We ask that if you have been travelling or have respiratory symptoms you call us before coming to the clinic to see your appointment or visit is necessary or can be taken care of via phone call. 
We are doing our best to keep pet food and medications in stock for your convenience and your pet's health. Please note that we may need to special order in some diets or medications and quantities may be limited due to availability or best before dates.
If you have any questions of concerns please do not hesitate to contact us by phone or e-mail and our Client Services Team will be happy to assist you.
Thank you,
Yonge Street Animal Hospital
(416) 483-3511
[email protected]